Offerta NUOVO alternatore AS-PL
NEW alternator in AS-PL offer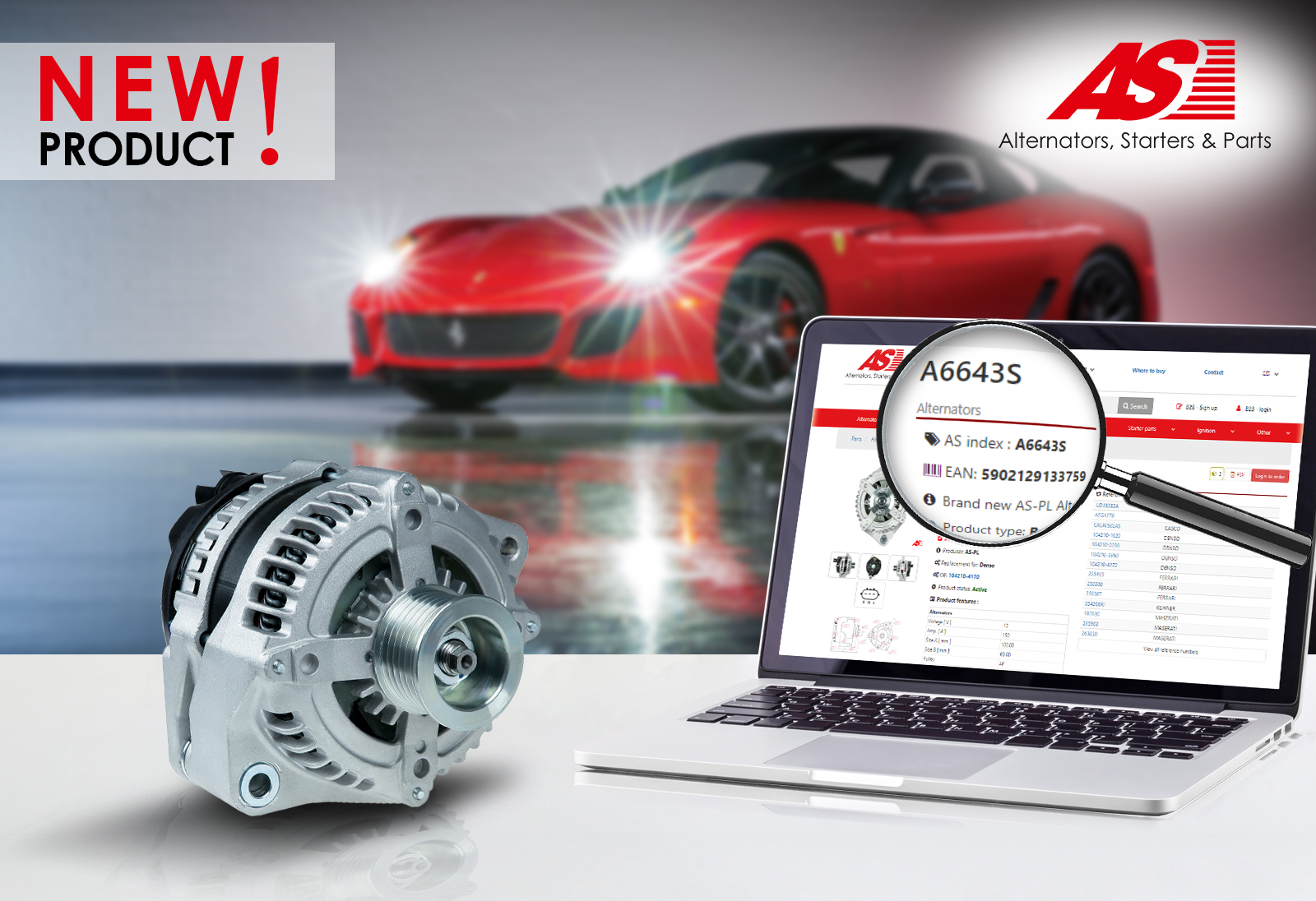 Another new alternator has enlarged the AS-PL offer. The alternator has an index number A6643S and is the product of the AS brand. The alternator belongs to the Standard line - 100% reliability and starts rate guaranteed by AS. The product can be used in Ferrari 599, Ferrari Enzo, Ferrari F430, Ferrari F430 Spider, Maserati 4200 GT Spyder, Maserati GranTurismo, Maserati GranCabrio, Maserati GranSport, Maserati Quattroporte.
AS-PL Sp. z o.o. offers more than 19,000 different products with a total of almost 280,000 reference numbers. A wide selection of original products is divided into three product lines: Economy, Standard and Premium. The offered products include parts and components for passenger cars, lorries, agricultural machines, boats, motorcycles, and for the industrial market.
Goods offered by the company undergo strict testing procedures. Supplying reliable products tailored to current market expectations while using state-of-the-art technologies is the company's most important goal and mission. All alternators and starters offered by the company are tested using specialist machinery. The test results are included in the product packaging.
All alternators and starters offered by the company are tested on specialized machines, and their test results included with the offered products.
Attractive commercial offer AS-PL Sp. z o.o. customers enjoy free access to products dedicated to all types of vehicles, including Start/Stop systems and high demand for electricity.

On-line catalogue
We have created an electronic online catalogue that allows you to easily and quickly find the parts you need, which is available online at ascatalog.com and on the company's website. In the interest of the environment, AS-PL has resigned from the printed catalogues. Our AS application makes it easy to select the appropriate components. You can download it from the Google Play™ and App Store®. The AS brand is also available in the TecDoc™ catalogue.
Development directions
In November 2019, a new AS-PL branch office was opened in Moncalieri near Turin in northern Italy. In August 2019, AS-PL has become the official supplier of the Groupauto Polska purchasing group for the largest domestic car parts distributors. In October 2018, a new building of the Sales Department at Panattoni Park Gdańsk was opened. On August 3rd, AS-PL positively passed the control assessing the implementation of an ISO 9001:2015 certificate.
The dynamic development of our company contributed to the establishment in 2017 of a new company called AS-PL UK Ltd. operating on the British market. At the end of last year, the newly formed company became a certified member of the IAAF (The Independent Automotive Aftermarket Federation), which is the equivalent of the Polish SDCM (Association of Distributors and Manufacturers of Automotive Parts) on the British market. From 2018 our products can be found in a prestigious British MAM Software Autocat v8 catalogue.