An ideal solution, particularly for custom-built vehicle series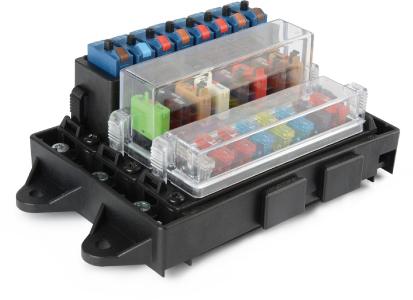 A new fuse and relay holder system in the Elparts product range makes design work easier for users and developers in vehicle engineering in particular. The modular system features fuse boxes with improved contact and boasts an impressively space-saving construction. It enables users to configure the vehicle electrics entirely to their own particular requirements.

What are the benefits of this modular system?
improved contact system and space-saving, modular construction
impressive savings potential in the harness when using jumpers for high currents
new lamellar contact system for high currents (individual contact up to 60 A; busbar up to 125 A)
Fuse boxes and relay sockets can be combined with the supporting frame to create a central electrical system
The system can be universally used for all vehicle models; planners and constructors can configure features innovatively and modularly. No special tools are required for fitting.

Method of operation

The fuse boxes for standard blade fuses and standard ATO fuses are available in normal, tall and flat variants as complete sets, including individual contacts and lids. What's more, customers can put together a fuse box to match their own particular requirements. The respective variants needed to do so can be ordered as individual components. The contacts are available as individual plug terminals and also in the form of a busbar with and without shackles for jumpers.
The option of bridging ensures that the fuse boxes can be assembled in a compact form. Three bridging variants are possible: 1-way, 2-way and 3-way. Much the same applies to the holders of the fuse box, which are available in 2-way and 3-way variants. Alongside the ATO boxes mentioned above, fuse boxes for mini-blade plug-in fuses and mini automatic circuit breakers can also be ordered. The mini fuse boxes enable many fuse protection devices to be installed in the smallest of spaces.
Thanks to this system, users, planners and developers working in vehicle engineering have innovative configuration options at their disposal for setting up the central electrics.